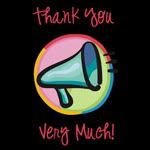 It's Free Therapy Day courtesy of Kmama at The Daily Dribbles !!
The way it works is that you take out all your frustrations on people/things-whatever- that really irritated or ticked you off during the week and then thank them in a very sarcastic way. (I sooo love the sarcastic part!)
Link yourself up and start venting!
-to the styrofoam coffee cup that was full of hot coffee mixed just the way I like it, that buckled under the process of me putting the lid on and spilled all over me, the counter, and the floor RIGHT NEXT TO A NICE ELDERLY COUPLE eating their breakfast- thank you very much! I love scenes!
-to the unseasonably cold weather IN MAY that we're encountering on our road trip back to New York after having spent a nice warm spring in Texas- thank you very much! Freezing is my favorite!
-to the waitress at dinner the other night who barely noticed we were alive and breathing but paid a ginormous amount of attention to the guy behind us-thank you very much! Hopefully our tip reflected our gratitude!
And to top it all off…
–to my ex who didn't have my WS2 available for my Sunday night call even though it's court ordered AND it was Mother's Day-THANK YOU OH SO FREEEAAAKIN' MUCH!! You're waaay too kind!