No? Well, let me be the first to tell you. IT AIN'T EASY.
Last week I had to take our cat Esther to the vet because she was having some sort of urinary problem. She kept going, and going, and going… and all her efforts would only produce a drop. Yeah that. IT AIN'T FUN.
But she didn't complain. She just did a lot of walking. To the litter box. I first noticed it one night and decided to call the vet first thing in the morning. So I call. No vet. He's on vacation. The receptionist, Carla, told me I could bring her in to see the vet that was filling in. Great! Except the fill-in wouldn't be filling-in until tomorrow.
When we went to the office the next dat, the fill-in was a "she-vet". Nice. I hadn't ever been to a female vet before. I explained Esther's symptoms and this is what she said, and I quote "Well, let's just take a look under the hood."
So, she took a look under the "hood". She said her bladder was empty so she wouldn't be able to get a urine sample. I asked if they could just keep her for a few hours and try later. No. The fill-in wouldn't be filling-in the rest of the day. Or the next day, which was Friday. I am soooo outta luck. Definitely SOL.
She gave me some pills for Esther. No problem. I can do that. But, IT AIN'T GONNA BE PLEASANT.
When I get home I opened her pill bottle and what did I see? Huge, ginormous pills that would choke a horse. I only had to give her half a pill a day, but that would mean having to half the half. Ugh. Now I'd have to cram, shove, force, gently place TWO pills down her throat.
Every. day. for. 10. days.
The she-vet also told me that when Esther is almost finished with her medicine, that I should bring in a urine sample. Hmmmm, how exactly am I supposed to do that?? She said "no problem, we have some non-absorbable litter we can give you." What did I say? "Oh, okay!" (I obviously had NO CLUE what was ahead of me.)
I survived giving Esther her pills without damaging our relationship. For some reason, she still loves me after all that. (maybe it's the Greenies I give her that she loves?) Which brings me to the urine sample. The non-absorbable litter, called Nosorb, that she said she could 'give' me was only 4 oz and cost $6.10. Now 4 oz may sound like a lot, but when it comes to litter, IT AIN'T MUCH.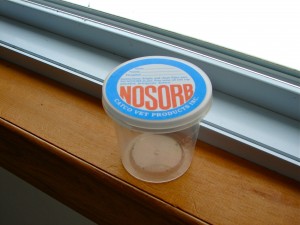 For Esther's litter I put a special litter box bag in the litter box and pour litter in it. So for this Nosorb, which is really just black plastic litter, I thought I'd put another bag on top of her litter (yes it was clean) and then put the Nosorb in that bag. I thought "what a great idea!" I was all happy thinking it was going be so easy. All I had to do was be a Litter Box Monitor. My goal was fresh kitty urine. With a goal like that it's all uphill from here! But nothing. For hours. That afternoon when I went into town, I even took the Nosorb bag out of the litter box so I wouldn't miss anything. When I got home, I put the bag back and continued my monitoring. (By the way, she pee'd a couple times while I was gone.) That night, I worked on a puzzle until I couldn't keep my eyes open. I went to bed and when I woke up my first thought was "Oh my God! Esther's litter!" And guess what… she had pee'd. Now what?? I'm going to have to start all over!! But now I have this bag of black plastic litter with kitty pee in it. How do I get the pee out? I don't have a kitty pee strainer! And even if I did have such a thing, then what? Somehow I'd have to get the Nosorb dry. How am I supposed to do that? Lay it out in front of the fireplace to dry like snowy, soggy boots? Then I realize I would have to rinse it and make sure it's clean because I don't want the dried up old pee cooties mixing with the fresh new pee so I don't have to go through that pill shoving mess again.
So here I sit with a bag of plastic litter and old cat pee, not sure of what to do next.
How is YOUR day?