I absolutely LOVE Robin Meade on HLN!  I need her news like I need my coffee in the mornings. I really need both to get my day going.  So, that being said, I would've read her book no matter what the topic.  Thankfully it was about gaining confidence within yourself. And who doesn't want a little extra confidence now and then? No? just me?  (I know, there are just SOME people who have too much in their quiver already. Ha!)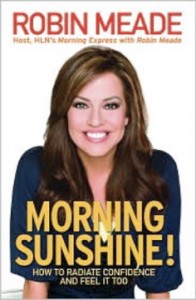 The following review is from Barnes & Noble
Synopsis
Robin Meade is the poster child for confidence and self-assurance. But the anchor of Morning Express with Robin Meade wasn't always that way. In fact, there was a period in her career when she was plagued with anxiety and panic attacks. In MORNING SUNSHINE, she tells how she overcame her fear of public speaking to go on and achieve her dream of becoming a news anchor. 
Robin Meade offers her own tried-and-true four-step approach to building confidence. Her trademark warm, personal style translates from the screen to the page in this book, which will give readers even more insight into the young woman who came out of nowhere to become one of the most popular news anchors on television today. 
Biography
Millions of viewers each week tune into HLN morning show star Robin Meade and her show, Morning Express with Robin Meade, which airs weekdays from 6 am to 10 am. Her extraordinary, fun personality has attracted an enthusiastic following, including Stephen King, who devoted an entire Entertainment Weekly column to her.