Vision in White by Nora Roberts
ANOTHER book from my book worm friend…. she sure knows how to pick 'em!!  I'm only about 1/3 of the way through this book, and so far it's been a great read.  I love weddings, even though I'M DONE with that sort of thing. The fairy tale is still alive…….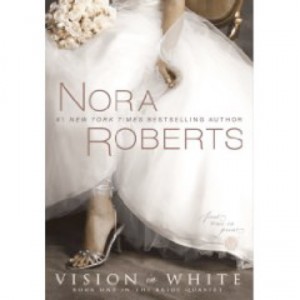 Prologue
By the time she was eight, Mackensie Elliot had been married fourteen times. She'd married each of her three best friends — as both bride and groom — her best friend's brother (under his protest), two dogs, three cats, and a rabbit.
She'd served at countless other weddings as maid of honor, bridesmaid, groomsman, best man, and officiant.
Though the dissolutions were invariably amicable, none of the marriages lasted beyond an afternoon. The transitory aspect of marriage came as no surprise to Mac, as her own parents boasted two each — so far.
Wedding Day wasn't her favorite game, but she kind of liked being the priest or the reverend or the justice of the peace. Or, after attending her father's second wife's nephew's bar mitzvah, the rabbi.
Plus, she enjoyed the cupcakes or fancy cookies and fizzy lemonade always served at the reception.
It was Parker's favorite game, and Wedding Day always took place on the Brown Estate, with its expansive gardens, pretty groves, and silvery pond. In the cold Connecticut winters, the ceremony might take place in front of one of the roaring fires inside the big house.
They had simple weddings and elaborate affairs. Royal weddings, star-crossed elopements, circus themes, and pirate ships. All ideas were seriously considered and voted upon, and no theme or costume too outrageous.
Still, with fourteen marriages under her belt, Mac grew a bit weary of Wedding Day.
Until she experienced her seminal moment.