The Dive From Clausen's Pier by Ann Packer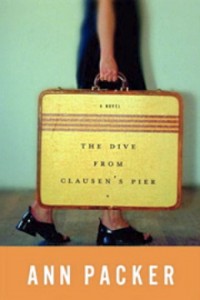 Amazon.com Review
Carrie Bell is the worst person in the world. Or so she would have you think. In the gripping, carefully paced debut novel of personal epiphany, 
The Dive from Clausen's Pier
, by O. Henry Award winner Ann Packer, Carrie's very survival is dependent upon her leaving her fiancé, even after he dives into shallow water at a Memorial Day picnic and becomes paralyzed. Things hadn't been going so well for the Madison, Wisconsin, high school and college sweethearts. Carrie knew, deep down, that she wasn't going to become Mrs. Michael Mayer. But expectations and pressure from all sides–his family, her mother, her best friend Jamie, Mike's best friend Rooster–force Carrie to shut herself up in her room and sew outfits of her own design as if in a trance. Then one night she slips out of the only universe she's ever known. Many hours later she finds herself on the doorstep of a high school classmate living in Manhattan. Carrie's adventures in the city–quirky roommates and a new romance with an older, emotionally impenetrable man–confuse her in her quest both to forgive herself and to embark on a career in fashion design. Packer writes in a convincing voice and packs a lot into this novel; she infuses Carrie with enough humanity and smarts to choose her own version of "happily ever after." 
–Emily Russin
From Publishers Weekly
Packer's engrossing debut novel begins without ostentation. On Memorial Day, Carrie Bell and her fiance, Mike Mayer, drive out to Clausen's Pier for their annual ritual, a picnic with their friends, a trip they make the way a middle-aged couple might, in grudging silence. Before their resentments can be aired, Mike dives into too shallow water, suffering injuries that change their lives. If Mike survives, he will survive as a quadriplegic, and Carrie faces unexpected responsibilities. Ultimately, Carrie does what is both understandable and unthinkable. She leaves her hometown of Madison, Wis., and shows up on the doorstep of a friend in New York City. There she discovers a different world, different friends and a different self. The hovering question–what will Carrie do? Abandon Mike or return to him?–generates genuine suspense. Packer portrays her characters–both New Yorkers and Madisonites–deftly, and her scenes unfold with uncommon clarity. But if Packer has a keen eye, she has an even keener ear. The dialogue is usually witty; more important, it is always surprising, as if the characters were actually thinking–one of the reasons they become as familiar to the reader as childhood friends. The recipient of several awards, Packer is also the author of Mendocino and Other Stories. Clearly, she has honed her skills writing short fiction. What is unexpected is the assurance she brings to a larger canvas. In quiet but beautiful prose, Packer tells a complex and subtly constructed story of friendship, love and the hold the past has on the present. This is the sort of book one reads dying to know what happens to the characters, but loves for its wisdom: it sees the world with more clarity than you do.