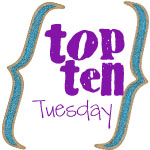 Hubby and I just got back to New York after spending 3 ½ months in the Lone Star State. On our road trip back, I started thinking about some of the differences between our two homes.  And since it's TOP TEN TUESDAY over at Oh Amanda, here goes!
WEATHER. Weather, weather, weather! This is totally obvious, I know, but having lived in both climates I can tell you it's more than just about being hot or cold.  When I first moved to NY I just knew I was going to freeze to death. Again, obviously that didn't happen because I'm here to write about it. The cold up north is different than the cold down south. It's really more tolerable than you think. The key is LAYERS. Layers, layers, layers.
SEASONS are absolutely gorgeous up north. Every single four of 'em! Winter is beautiful with the ground covered in snow. The spring time is awesome! but then again, spring is awesome almost everywhere, isn't it?  Summer is the greatest-it's hot enough to feel like summer, but you don't always sweat to death and feel like you need another shower when you walk outside. In the fall the leaves turn the most beautiful of colors, the pumpkins are out, and it's apple season. Down south, you get two seasons-hotter'n hot and not so hot.
FOOD!! The South takes the cake on this one. I love me some southern home cooking! Especially that of my mother, aunts and cousins. EVERYTHING is delicious! Especially my cousin's German Chocolate Cake, which btw, I crave EVERY SINGLE DAY (hint, hint).  Maybe since I grew up eating southern food I love it more. Northern food is more vinegar-y-ish. That is all.
ACCENTS are a gimme. I never knew/noticed/cared that I have an accent. It has become apparent to me that I do in fact, have an AX-SEANT. I never realized it until I heard George W talking on TV after I had been living in NY and hearing all these yankees who "tawk" funny. Me to Hubby-"Do I sound like that?" Hubby- "ummmm, YEAH."
PERSONALITES are a big difference too. I'm sure you've all heard the stories… It's not that the yankee folks are rude (although they can come across that way sometimes), it's just that people in the south take manners and courtesy one step further.
LANDSCAPE  Texas is flat, NY is not. The elevation at our home in Tx is zero, bordering on -1. The elevation at our home in NY is 1330. We call it the "nose bleed section".  We have the best of both worlds-part time beach, part time mountains.
POLITICS Most New Yorkers are liberal democrat. Example: Hillary Clinton. Most Texans are conservative republican. Example: George "Dubbya".  And that's all I have to say about that.
SPORTS  In Texas there's football, football, and football. There's also basketball and baseball, but football is king. Especially Friday night high school football. In New York there's hockey, lacrosse, basketball, football, but baseball is king. Or is it just me and my Yankee self??
SHOPPING  There's no comparison for shopping for me. Down south I'm next to the 4th largest city in the nation. You can find anything and everything you would ever want or need. Up north, not so much. The closest city for decent shopping is over an hour away. After that it's 2 ½ hours to "the city", which is absolute shopping heaven! After that, it's 3+ hours to Philly.
NEIGHBORS There's nothing like having great neighbors. While we're away in Texas, our neighbor-friends in New York take care of our place and watch it like a hawk. Anything you need, they are right there, ready and willing to help in any way possible. We're still trying to figure out if they really like us, or if it's the fact that they like being thanked with beer… hmmmm